Welcome To Our Store
We are a premium pet product company producing eco friendly, natural and organic luxury pet shampoos, balms and sprays to care, soothe and calm for the delicate, sensitive, irritated, dry, itchy, flaky, control odour and protect against microorganisms for comfortable skin and coat for your beloved dogs, horses and cats etc.
Our botanical enriched luxury pet products are formulated to multitask, safe and gentle for your children to bath your furry friends under your supervision.
Our unique products are packed with natural and organic goodness also helps to reduce allergies, scratching, fleas, mites, flies, ticks and bugs, whilst especially selected natural and organic essentials helps calm, soothe and comfort your pet.
Our products are used by professional groomers for their gentleness, effectiveness and quality.
You will not find these harmful ingredients in our product:
No Parabens
No SLS/ Sulfates
No Phosphates
No Petrochemicals
No Artificial Colours
No Phthalates
No Synthetic Fragrances
Our products are not tested on animals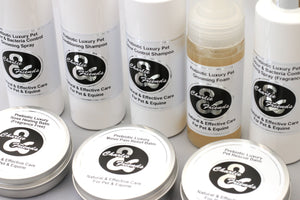 Award Winning Pet Products
Shop our award winning products today!