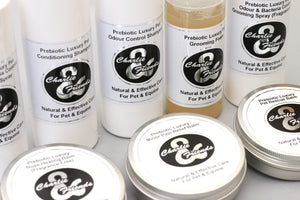 Prebiotic Luxury Pet Muscle Ease Shampoo 250ml
Regular price £13.95 Sale
 A moisturising Prebiotic Luxury Pet Muscle Ease Shampoo developed with organic and natural active ingredients, prebiotic and moisturisers to gently cleanse and ease tired muscle and legs. Also helps dry, sensitive, itchy horse and pet skin, whilst the natural prebiotic and other active protect against microorganisms and restore the natural balance to your pet's skin. Ideal for dogs and horses after strenuous training, working, competitions or minor pain relief.
Direction: Rinse off your pet with warm water, apply a small amount to the coat and rub to create rich, smooth lather avoiding the eyes, rinse off and towel dry. Prebiotic care and protection the skin
Safety
For external use only
Avoid Contact With Eyes
Not Suitable For Pets Under 6 Weeks Old
 Product Benefits
A Multifunctional Shampoo
Has Anti-inflammatory Properties
Protect Against Bacteria And Infections
Prevents Dryness, Moisturises And hydrates
Gentle On Sensitive and Irritated Skin
Soothes Aches And Pains
Calms Tired, Restless Pet
 Key Ingredients & Benefits
Coconut Derived Cleanser
Prebiotic: Prebiotic helps to strengthen the friendly bacteria to recover and grow faster than the harmful bacteria, even when the skin's natural balance is disturbed. Friendly bacteria have a serious advantage over harmful ones, these friendly organisms help to create a barrier against damage caused by pollution, temperature changes, excess sun or cold or conditions caused by different stages of life.
Aloe Vera Leaf Extract: Rich in vitamins C, B1, B2, B3, B4 and B12 and minerals such as: potassium, calcium, sodium, manganese, magnesium, silicon, iron, lithium, copper and germanium. It is also anti-septic, anti-bacterial, anti-inflammatory which has soothing and calming  irritated skin.
Oat extract: has healing and tissue regenerating, anti-irritant and anti-inflammatory properties, very comforting for sensitive and irritated pet skin.
Lavender Essential Oil: Is a sweet, floral – herbaceous, classic, soft, mellow scent. It is soothing, calming, relaxing, restorative, cleansing, purifying and balancing. As well as being carminative, antimicrobial, antitoxic, antiseptic, sedative and tonic.
Eucalyptus Essential Oil: Fresh, minty restorative, nerve tonic, anti-inflammatory, antiseptic, antiviral and astringent.
Ginger Essential Oil: Fresh, woody- warm and exotic. Also the therapeutic properties of Ginger oil are analgesic, anti-emetic, antiseptic, antispasmodic, bactericidal, carminative, cephalic, expectorant, stimulant, comforting, warming and tonic.
You will not find these harmful ingredient in our product:
No Parabens. No SLS/ Sulphates. No Phosphates. No Petrochemicals
No Artificial Colours. No Phthalates. No Synthetic Fragrances
Our products are tested on animals.