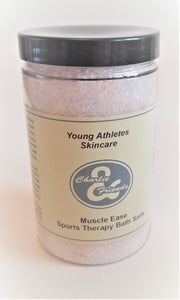 Muscle Ease Sports Therapy Bath Salt 500g (Unisex)
Regular price £14.95 Sale
Description: A warming, reviving, restorative and comforting thalassotherapy bath Salt. This will help reduce inflammation of the muscles fatigue and joint pain, relaxes and speed up sports performance recovery, relieve physically effects of demanding days. Muscle Ease will soothes the body, de-stresses the mind and promotes deep restful sleep.
Directions: Place a handful under a running tap and let it dissolve completely before getting in the bath and then soak 20-30 minutes. Tips – follow with Muscle Ease Sports Therapy Cooling Gel.
Key Ingredients & Benefits 
Sea Salt: Smooth and softens the skin and restores moisture balance to the skin.
Epson Salt: Salt bath is a wonderful way to de-stress, nourish your skin, and improve sleep.
Himalayan salt: Helps to reduce inflammation of the muscles and joints.
Cocoa Butter: Nourishes, softens and moisturises.

Ginger Essential Oil: Fresh, peppery, rich, woody-spicy and exotic. Also the therapeutic properties of Ginger oil are analgesic, antiseptic, antispasmodic, bactericidal, carminative, stimulant, comforting, warming, aphrodisiac and tonic. 

Cedarwood Oil: Is anti-inflammatory and highly effective in easing joint pain and stiffness caused by arthritis and also It helps reduce joint and tissue inflammation and dull pain.

Camphor Oil: It is anti -inflammatory and warming stimulant and muscle relaxant, rheumatism like aches and pains.

Rosemary Oil: Is anti- inflammatory, increases circulation, alleviates muscle and joint pain, reduces swelling.

Black Pepper Oil: It is warming, stimulating and improves circulation, gives relief for rheumatism and arthritis, It is also an effective antispasmodic and gives good relief in case of cramps, muscles pulls, spasms and gout.

Lemongrass Oil: is an analgesic, reduces pain and inflammation helps relieve pain in muscles and joints, it also helps with general body pain resulting from strenuous activities and athletics.

100% Natural and Organic Ingredients, Vegan and Cruelty Free

No petrochemical derivatives, No synthetic colours or fragrances, No harsh detergents and No mineral oils, No animal testing.