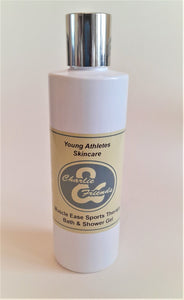 Muscle Ease Sports Therapy Bath & Shower Gel 250ml (Unisex)
Description: A reviving and restorative body wash & soak gel to cleanse, moisturise and hydrate. Whilst helping to muscles to recover from sport performances, will relieve muscle soreness leaving you comfortable and soothed. A must have for every young sports person.
 .Directions: use anytime in the bath or shower rinse off and pat dry.                  
Caution: For external use only     
Key Ingredients & Benefits
 

Panthenol-

holding moisture and boosting skin metabolism.

Stearyl Dihydroxypropyldimonium Oligosaccharides-

 it extensive moisture-binding properties and excellent substantivity provide moisturising and softening to the skin

Oat extract: has anti-irritant and anti-inflammatory properties, very comforting for sensitive and irritated skin.
Chamomile extract:

 

Has anti-inflammatory and soothing properties for relieving inflamed and itchy skin.
Aloe Vera:

 

Rich in vitamins C, B1, B2, B3, B4 and B12 and minerals such as: potassium, calcium, sodium, manganese, magnesium, silicon, iron, lithium, copper and germanium. It is also anti-septic, anti-bacterial, anti-inflammatory that has soothing and calming properties as well.
No petrochemical derivatives, No synthetic colours or fragrances, No harsh detergents and No mineral oils, No animal testing.