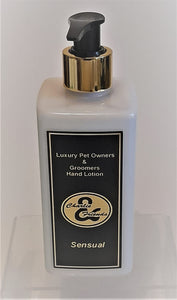 Luxury Sensual Hand Lotion 300ml
Regular price £26.95 Sale
Description: A luxurious and delicate hand lotion is developed with the finest plant oils and extracts, anti-bacterial, antioxidants, peptides, vitamins and pure essential oils to soothe and feed hard working hands. This hand lotion will improve and fight against skin imperfections, ageing and dullness, improving luminosity and brightness, leaving the skin smooth and more youthful, whilst protecting against microorganisms.
Directions: Use as needed, apply to hands massage into the skin and the nails and cuticles.
 Key Ingredients & Benefits
Organic Moringa oil is rich in many antioxidants, and has skin-rejuvenating properties and these anti-oxidants do wonders for ageing and nutrient-depleted skin.
With an impressive oleic acid content of 72%, Moringa oil penetrates deeply into the skin, delivering vital nutrients and also helping the skin retain moisture. Moringa oil's benefits include skin rejuvenation, wrinkle reduction and skin blemish removal.
7 times more vitamin C than found in Oranges
4 times more Calcium than Milk and twice the protein
4 times the Vitamin A found in carrot 
3 times the potassium found in bananas
3 times the iron found in almond ageing
47 Anti-Oxidants
36 Anti-inflammatories
25 Multi-Vitamins
30% Protein
Apricot Butter: Is rich in vitamins A, E and essential fatty acids. It's highly emollient and keep the skin soft.
Panthenol: holds moisture and boosts skin's metabolism.
Organic Aloe Vera Concentrate: anti-inflammatory, its soothing, nutrient-rich and healing properties.
Hyaluronic Acid Eco: Its rejuvenating properties result in increased skin smoothness and softness. It also protects the cell structure and defending against external threats and bacterial infections.
Allantoin: Allantoin is known to promotes skin cell regeneration and helps sensitive skin to become more resilient, counteracting dryness and cracking. What is valuable about allantoin is that it promotes the skin's own healing process making it swifter and more effective. It helps to retain skin moisture too.
Papaya Extract: Gently removes skin cells from the surface
Makes skin smoother, brighter and softer
Assists the renewal of skin on its top layer
Reduces visibility of skin discolouration and sun spots
Retextures dry, flaky skin.
Cosmetic Prebiotic:  In presence of a prebiotic the friendly bacteria have a serious advantage on the harmful ones. These friendly organisms help to create a barrier against damage caused by pollution, temperature changes, excess sun or cold or conditions caused by different stages of life. An effective solution is to make the friendly organisms stronger against important changes in the skin balance
Calendula :Has great anti-inflammatory It addresses sore, inflamed, and itchy skin conditions, heals, soothes, and softens skin.
Cranberry Fruit Extract is a natural extract, it is also anti-aging, as an anti-inflammatory, antiseptic, and anti-bacterial and also contain vitamin C as well as tannins.
Guava is very rich in Vitamin A, B & C. Through moisture retaining B vitamins, Guava is a valuable component for anti-aging skin care as it helps prevent the oxidation process of the cell.
 Apple contains a high level of Vitamin C, polyphenols and a wide array of trace minerals. In addition its reputation as a healthy, clean, green and fresh fruit also makes this the perfect additive to any skin care formulation.
Melon Extract is a great toner for the skin, it also contains Vitamin A, which benefits skin repair through increasing the rate of new cell formation. Vitamin C is also a valuable property that acts as an anti-oxidant with wonderful proteins for smoother, softer skin.
Vitamin B3: Provides potent anti-inflammatory activity in the treatment of acne vulgaris, reducing papules/pustules and acne severity.
 Saccharide Isomerate: It has an extensive moisture-binding properties and excellent substantivity provide moisturising and softening to the skin.
Rose Essential Oil: Evokes passion, beauty, luxury, rich,  tender and warm scent, rose essential oil also boast of many healing properties such as antidepressant, antiseptic, antiviral, antispasmodic, aphrodisiac, comforting, uplifting, regulating and tonic.
Frangipani Absolute: Is heavy, sweet and floral fragrance that is very complex with an exotic hint of spice, a very beautiful, sensual and stunning scent.
Jasmine Essential Oil: Is rich, warm, exquisite, exotic and long lasting, it also has uplifting, intoxicating, antidepressant, euphoric, aphrodisiac and balancing qualities.
Ylang Ylang Essential Oil: Its exotic, floral, oriental and sensual aroma, it is very calming, soothing, regulating and aphrodisiac. Ylang ylang essential anti-inflammatory, antiseptic, anti-depressant, tonic and sedative. The oil said to help by releasing negative emotions such as anger, possessiveness or low self-esteem.