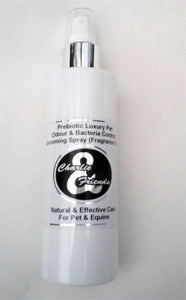 Prebiotic Pet Bacteria, Odour Control & Grooming Spray 250ml
Regular price £15.95 Sale
A unique product of odour, microorganisms control and grooming spray all in one to protect your pets, home and family from unwanted visitors, as well as groom and helping to moisturise and prevent dryness and provide  protection for your pet.
Direction: Apply onto your pet's coat rub it in, brush coat for healthy, shiny and sweet smelling pet. Use after washes, between washes and it can be spray around room to neutralize wet dog smell.
Safety
For external use only
Avoid Contact With Eyes
Not Suitable For Pets Under 6 Weeks Old     
Product Benefits 
Freshens Up Pet
Protects against bacteria and infections Moisturises
Control Odour
Skin Healing Properties
The Kills Bacteria On Pet's Bedding
Helps Reduce Allergies
Flights Fleas, Mites, Ticks And Bugs
Encourages Healthy Shiny Coat
Encourages Healthy Environment
And A Beautiful Smelling Pet
 Key Ingredients & Benefits
Prebiotic: Prebiotic helps to strengthen the friendly bacteria to recover and grow faster than the harmful bacteria, even when the skin's natural balance is disturbed. Friendly bacteria have a serious advantage over harmful ones, these friendly organisms help to create a barrier against damage caused by pollution, temperature changes, excess sun or cold or conditions caused by different stages of life.
Oat extract: has healing and tissue regenerating, anti-irritant and anti-inflammatory properties, very comforting for sensitive and irritated pet skin.
Neem Oil: antibacterial and antifungal properties
Calendula: as great anti-inflammatory It addresses sore, inflamed, and itchy skin conditions, heals, soothes, and softens skin.
Organic Yarrow: It is astringent, healing, anti-inflammatory and soothing effects on the skin.
Aloe Vera Leaf Extract: Rich in vitamins C, B1, B2, B3, B4 and B12 and minerals such as: potassium, calcium, sodium, manganese, magnesium, silicon, iron, lithium, copper and germanium. It is also anti-septic, anti-bacterial, anti-inflammatory which has soothing and calming  irritated skin.