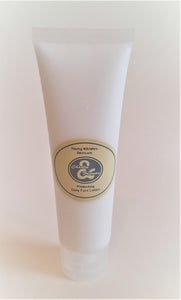 Protecting daily face Cream 100ml (Unisex)
Protecting daily face Cream is a soothing, calming and balancing face cream that rapidly absorbed and offers relieve from the damaging effects of cold, wind and other environmental factors. This cream is also protects, moisturises and reduce skin redness and even out skin tone.
Directions: Apply to face after washing including the forehead and under the chin and neck – use morning and night or as needed.
All Skin Types
For external use only
Key Ingredients & Benefit
Bisabolol-

 

Soothing, anti-inflammatory, antibacterial, antifungal

Comfrey  Extract

- Soothing, moisturising, antiseptic and healing

Willow Bark Extract

- has activity against Staphylococcus aureus and Propionibacterium acnes, two of the skin flora implicated in the formation of acne.

Aloe barbadensis

- anti-inflammatory

Vitamin B3

- Provides potent anti-inflammatory activity in the treatment of acne vulgaris, reducing papules/pustules and acne severity

Cosmetic Prebiotic

-prebiotic helps to recover the friendly bacteria.

Oat Beta Glucan

: Beta Glucan has a significant protective effect in reducing premature failure, acting as a natural moisture barrier and film forming agent. Due to its powerful moisturising and rejuvenating properties. Oat Beta Glucan is proven to display soothing, hypoallergenic, restorative and protective properties. It has a proven significant deep moisturising effect on the skin which is both rapid, long-lasting and anti-ageing.

Epidermis & Sebum Balancer:

 I

s rich in flavonoids and has strong anti-inflammatory properties. It is also very high in the tannin oenethin B, which is very useful in regulating sebum production in human skin which is in helpful for treating oily and sensitive skin.

Lavender Essential Oil: Is a sweet, floral – herbaceous, classic, soft, mellow scent. It is soothing, calming, relaxing, restorative, cleansing, purifying and balancing. As well as being carminative, antimicrobial, antitoxic, antiseptic, sedative and tonic.