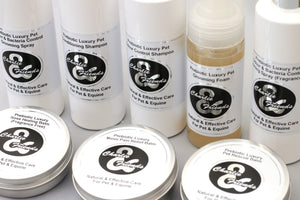 Professional Prebiotic Luxury Mane, Tail & Hoof Balm
A unique and multifunctional grooming and hoof balm, especially formulated with natural active ingredients to detangle and manage mane and tail, whilst soothing damaged, dry, irritated skin, itchy, rashes, wounds, bites and flaky skin. Helps protect against fungal and bacterial infections in hooves, softens and prevent dryness, nurture, healthy growth and shine.
Direction: Apply a small amount in the hands rub together and apply to mane and tail and bush as usual. For Hooves: Apply to the sole, frog and outer horn as needed.  This can be applied a few times a day for a quick results. Please make sure the affected area is clean.
Caution: For external use only. 
Key Ingredients & Benefits
Prebiotic: Prebiotic helps to strengthen the friendly organisms present in the skin, recover and grow faster than the harmful bacteria even when the natural balance is disturbed. In presence of a prebiotic the friendly bacteria have a serious advantage on the harmful ones. These friendly organisms help to create a barrier against damage caused by pollution, temperature changes, excess sun or cold or conditions caused by different stages of life.
Aloe Vera: Rich in vitamins C, B1, B2, B3, B4 and B12 and minerals such as: potassium, calcium, sodium, manganese, magnesium, silicon, iron, lithium, copper and germanium. It is also anti-septic, anti-bacterial, anti-inflammatory which has soothing and calming properties as well.
Avocado oil: Is a rich source of vitamin A, D and omega 3, It also has a high content of lecithin and potassium and it penetrates deeply into the skin. The oil is highly effective in protecting the skin from UV rays, therefore decreasing the chance of being sunburned. Avocado oil is ideal for dry, dehydrated and damaged skin.
Cocoa Butter: contains polyphenols and vitamin E, it helps retain moisture, it reduces skin cell degeneration and helps restore  the skin.
Coconut Oil: Consists of more than ninety percent of saturated fats Vitamin-E and Vitamin K and minerals such as Iron. Coconut oil is considered one of the best natural nutrition for skin and hair. It is an excellent conditioner and helps in the re-growth of damaged hair. It also provides the essential proteins required for nourishing damaged hair and it softens and conditions.
Tocopherol: Vitamin E is a classic antioxidant, which protects against the destruction of the connective tissue caused by free radicals.
Calendula:Has great anti-inflammatory It addresses sore, inflamed, and itchy skin conditions,heals, soothes and softens skin.
Lavender Essential Oil: Is a sweet, floral – herbaceous, classic, soft, mellow scent. It is soothing, calming, relaxing, restorative, cleansing, purifying and balancing. As well as being carminative, antimicrobial, antitoxic, antiseptic, sedative and tonic.
Eucalyptus Essential Oil: Fresh, minty restorative, nerve tonic, anti-inflammatory, antiseptic, antiviral and astringent.
Tea Tree Oil: is a great moisturizer for the hair, it helps to keep the skin free of bacteria and fungal problems. Tea tree oil unblocks the sebaceous glands and encourage the flow of the skin's own moisturizing oils while clearing away dead skin cells.