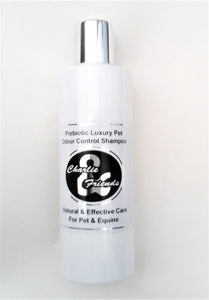 Luxury Prebiotic Dog Grooming Odour Control Shampoo 250ml
Regular price £13.95 Sale
An effective luxury prebiotic dog odour control shampoo enriched with aloe vera, vitamin E, panthenol, prebiotic and other actives ingredients to protect against microorganisms, odour and restore the natural balance to your pet's delicate, whilst moisturisers and essentials oils deeply nourish and helps with dry, itchy & irritated skin.
Direction: Rinse off your pet with warm water, apply a small amount to the coat and rub to create rich, smooth lather avoiding the eyes, rinse off and towel dry. Prebiotic Pet Rescue Balm can be applied for extra care and protection
Safety
For external use only
Avoid Contact With Eyes
Not Suitable For Pets Under 6 Weeks Old
Product Benefits
Prevents And Controls Odour
Cleanses deeply And Detangles 
Moisturises And Nourishes
Treats Dry, Itchy and Irritated Skin And Prevents Further Occurrence  
Helps Kill Bacteria that Causes Skin Infections
Pure Essentials Oils Calms and Soothes Your Pet 
Highly Concentrated - Can be diluted at 6 -1, Making The Product Economical.
 Key Ingredients & Benefits
Coconut Derived Cleanser
Prebiotic: Prebiotic helps to strengthen the friendly bacteria to recover and grow faster than the harmful bacteria, even when the skin's natural balance is disturbed. Friendly bacteria have a serious advantage over harmful ones, these friendly organisms help to create a barrier against damage caused by pollution, temperature changes, excess sun or cold or conditions caused by different stages of life.
Oat extract: has healing and tissue regenerating, anti-irritant and anti-inflammatory properties, very comforting for sensitive and irritated pet skin.
Calendula: as great anti-inflammatory It addresses sore, inflamed, and itchy skin conditions, heals, soothes, and softens skin.
Organic Yarrow: It is astringent, healing, anti-inflammatory and soothing effects on the skin.
Chickweed Extract: it soothes dry and sensitive pet skin. It relieves the itchiness and redness associated with skin irritations and also has anti-inflammatory properties.
Chamomile extract: Has anti-inflammatory and soothing properties for relieving inflamed and itchy skin.
Oat Flour Extract: Is anti-irritant, calming, cleansing and has moisturising properties,  It's unique patented process enhances the availability of beta-glucan, as well as enhanced moisturising, cleansing and soothing activity, rich in essential lipids and essential fatty acids and contains natural antioxidants.
Lavender Essential Oil: A soft, mellow scent. It is soothing, calming, relaxing, restorative, cleansing, purifying and balancing. As well as being carminative, antimicrobial, antitoxic, antiseptic, sedative and tonic.
Clove Oil:  it is known for its antibacterial and antifungal properties and used for   skin infections. It is also said to help feeling fatigued, tired, weak, listless feeling,  helps to keep to calm.
You will not find these harmful ingredient in our product:
No Parabens. No SLS/ Sulphates. No Phosphates. No Petrochemicals
No Artificial Colours. No Phthalates. No Synthetic Fragrances
Our products are not tested on animals.